Safety Shower Guard® – The Safety Shower Tester
Whether you work in a university lab, a manufacturing facility, or a company research center, this patented Safety Shower Guard® will save your time and make your routine inspection of safety showers simple. We're committed to designing lab equipment from the inside out. We only use the highest quality components in our products. Let the Safety Shower Guard® tell you if your safety shower is working properly or not.
Please watch the video to learn how our safety shower tester – Safety Shower Guard® works.
What Is Safety Shower?
A safety shower is a unit designed to wash an individual's head and body which has come into contact with hazardous materials. Large volumes of water are used, which could help rinse the materials away from the skin and eyes.
A safety shower station is an essential piece of equipment that every laboratory uses when working with chemicals and other hazardous materials. Safety shower stations are used to help reduce workplace injuries that are due to physical contact with chemicals or other hazardous materials.
(https://en.wikipedia.org/wiki/Emergency_eyewash_and_safety_shower_station)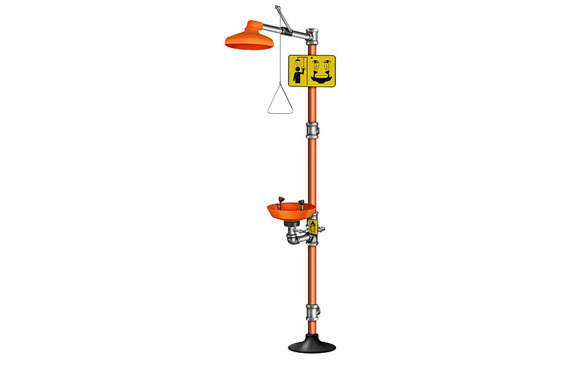 Types Of Safety Shower Tester
Safety Shower Testing Kit often includes a lengthy Nylon funnel, an aluminum handle and a water collector. Many testing kits available on the market are similar in design and fragile by nature.
Our patented Safety Shower Guard® – is an integrated testing device providing a mess free, convenient, durable, mobile, and multi-faceted safety shower testing experience.
Why Have To Do Safety Shower Testing?
The standard guiding the placement, functionality, and maintenance requirements for safety showers and eyewashes is ANSI/ISEA Z358.1. In its current form, it is the clearest and most useful tool for protecting workers from eye, face, and body injuries resulting from caustic and corrosive materials introduced by workplace incidents such as spills, splashes, and blown particulates.
Please watch the video to learn how the safety shower tester – the Safety Shower Guard® works.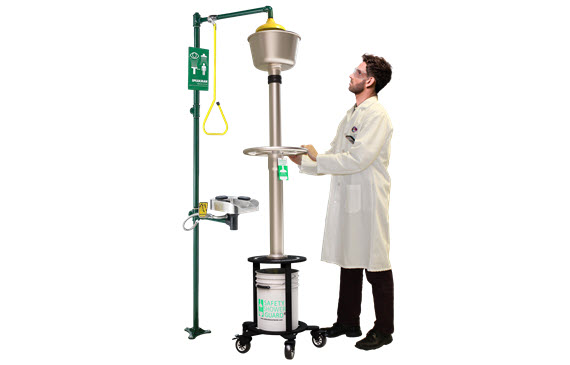 Regulations of Safety Shower Testing
Safety showers and eyewashes are required by the ANSI/ISEA Z358.1-2014 Standard to be activated weekly, with a more thorough evaluation on an annual basis. This requirement is established in Sections including 4.6.2, 4.6.5. The standard requires stringent testing to be conducted on a regular basis to ensure properly functioning equipment is being provided at all times if an incident were to occur. We should all understand that compliance is not a once-a-year or once-a-month responsibility. Compliance is an all-day, every-day requirement.
Safety Shower Applications by Using Safety Shower Tester
Regular Shower Inspection
Flow Rate Measurement
Spray Pattern Measurement (accessory not included, call for order information)
Water Temperature Measurement (accessory not included, call for order information)
Regular Shower Inspection by Using Safety Shower Tester — the Safety Shower Guard®
Place the 5 gallon bucket (supplied) in the middle of the Base of our patented safety shower tester equipment — the Safety Shower Guard®
• Release the brakes on the two wheels
Move the Safety Shower Guard® to the safety shower faucet that will be tested
• Apply the brakes on the two wheels
Use one hand to hold the Upper Tube, the other hand to turn the Handling® Wheel counter-clockwise until the Upper Tube can move freely
Extend the Upper Tube until the Funnel can cover the safety shower faucet
Turn the Handling Wheel® clockwise to lock the Upper Tube
Make sure the Upper Tube will not drop suddenly
The patented safety shower tester instrument — the Safety Shower Guard® is ready for use

Flow Rate Measurement by Using Safety Shower Tester — the Safety Shower Guard®
According to ANSI Z358.1-2014, the minimum flow rate should be 20 GPM. A stop watch is required along with safety shower guard® to measure water flow rate. 10 seconds flush water received by the bucket can be measured to determine the flow rate (20 GPM equals 3.333 gallons per 10 seconds)
Spray Pattern Measurement by Using Safety Shower Tester — the Safety Shower Guard® (accessory not included, call for order information)
According to ANSI Z358.1-2014, the diameter of the spray pattern at 60 inches from floor should be larger than 20 inches. This can be measured with a receiver (30 inches diameter) attaching to the upper tube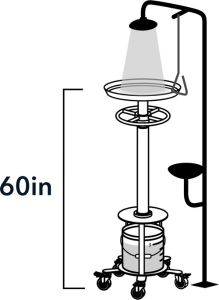 Water Temperature Measurement by Using Safety Shower Tester — the Safety Shower Guard®(Accessory not included, call for order information)
According to ANSI Z358.1-2014, the water temperature delivered by safety shower should be 'tepid'. Tepid is defined to be between 60°F (16°C) and 100°F (38°C). However, in circumstances where a chemical reaction is accelerated by flushing fluid temperature, a facilities safety/health advisor should be consulted to determine the optimum water temperature for each application. A thermometer can be attached inside the bucket to measure the instant water temperature received by the bucket
Color: black, silver
Net Weight: 56 lbs
Dimensions: 24" W X 24" D X 63" to 86" H or 24" W X 24" D X 63" to 96" H
Composition: stainless steel, aluminum, steel, plastics