THE INNOVATIVE SAFETY SHOWER TESTER
Do you work in a university lab, a manufacturing facility, or a company research center? If so, the patented Safety Shower Guard® will save you time and make your routine inspection of safety showers simple. Our ergonomically correct and user friendly design, which is made from the highest quality components just may be exactly what you are looking for. The Safety Shower Guard® can be moved around and into any lab or plant environment, where it can be used to test safety showers through daily, weekly and annual inspections. The Safety Shower Guard® can also measure critical specifications defined by the regulatory requirements 29 CFR 1910.151 (c) and compliance standards set forth by ANSI/ISEA Z358.1.
CONVENIENT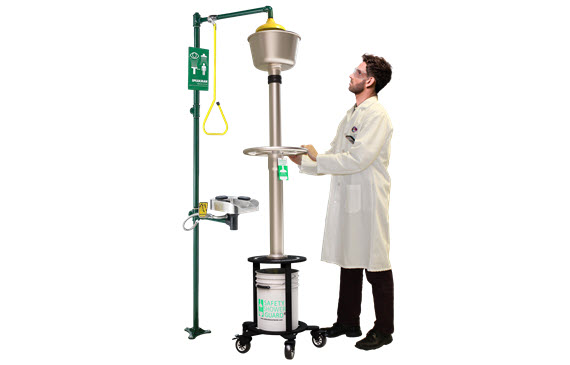 The use of the Safety Shower Guard® is a one person process, which provides a convenient way to comply with ANSI specifications for daily or weekly testing on all safety showers. The convenient maneuverability will allow you to easily raise the funnel to cover the entire shower head so that the water that is being released will flow directly to the containment bucket without any leakage or spills.

DURABLE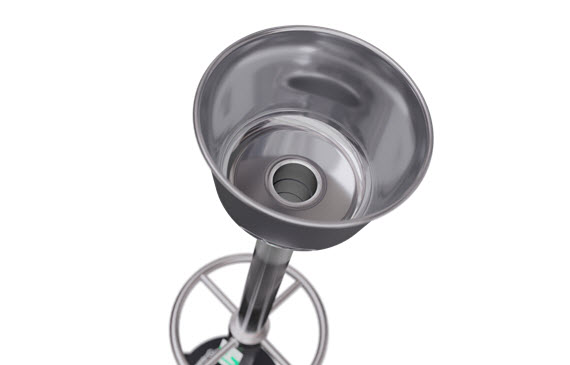 Engineered to work in scientific laboratories and manufacturing plants, the Safety Shower Guard® is not only designed visually appealing but also constructed with industrial strength materials.  Unlike other plastic safety shower testers sold on the market, the steel base, aluminum stem, and stainless steel funnel is built to last.
MOBILE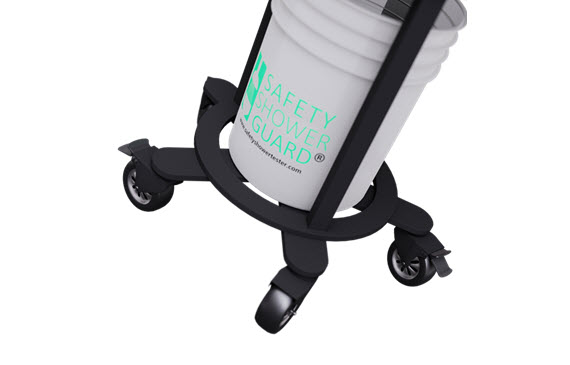 The 3 inch hardened steel casters installed on the 5 feet of the base makes it very easy to move the Safety Shower Guard® in any direction to where safety showers are located.  By integrating height adjustability into the design, the Safety Shower Guard® is built to accommodate showers installed at different situations and take water dispersal at different height levels.
MULTIFACETED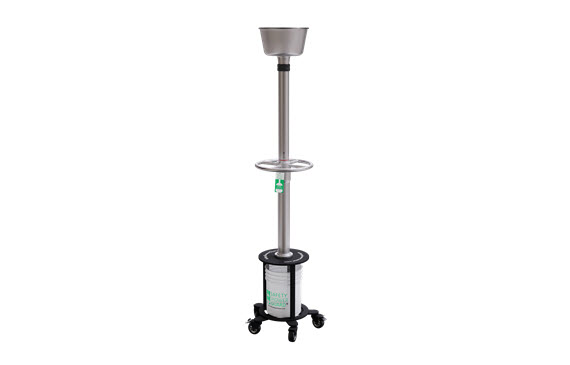 The Safety Shower Guard® integrates multiple functionalities into one instrument. A stop watch can be used to measure the water flow rate with the scale printed on the receiving bucket. A thermometer can be attached to read water temperatures instantly. The funnel can be replaced with different sizes to measure the spray diameter at a distance from shower head per ANSI/ISEA Z358.1 requirement.
"It's a convenient, single person operation, which is super easy to use and makes my daily shower checks much easier! I am sure that anyone in the industry would love to have one of these testers! Please pass along my appreciation and gratitude to your design team."